Local Club Webpages (Updated 03/01/2023 at 10:59 AM)
Northern Indiana Amateur Radio Clubs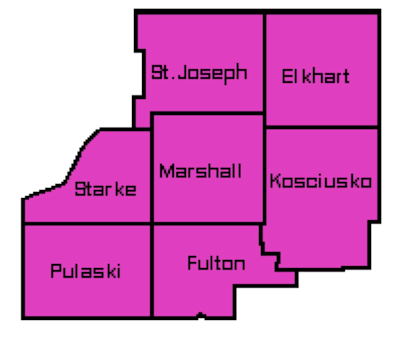 Clickable Map: Click a County to Find Amateur Radio Clubs In That County
OTHER Clubs
White County
https://www.facebook.com/groups/383788328300458
---
Cass County
http://www.w9vmw.org/links.html
---
Miami County
---
Laporte County
---
Whitley County - Whitley County Amateur Radio Club
Second Thursday of the month, starting at 6:00 PM. The meeting are held at the Peabody Public Library, 1160 E, IN-205, Columbia City, IN 46725 Lower-level Community Rooms A & B.
Web Page: www.wcarc.org
Facebook: https://www.facebook.com/groups/445281282513824/
---
K9HC
Robert L Worsham
HUNTINGTON COUNTY AMATEUR RADIO SOCIETY
929 S 200 E
Huntington, IN 46750
USA
About HCARS
The Huntington County Amateur Radio Society or simply HCARS, is a non profit organization dedicated to the promotion of amateur radio through education and public service in Huntington County, Indiana. K9HC is our club call-sign and is used by our club members during special events and by our repeater system.
If you've ever been interested in radio communications, or are just plain curious, we invite you to attend our meetings.
HCARS club meetings are held on the 4th Monday of the month, 7pm, at the Huntington Township Fire station conference room; 1005 N Broadway St, Huntington, IN 46750 .
You can also listen to our nets on the following frequencies:
Our 2 meter repeater is on 146.685 - PL 141.3, and hosts a weekly net on Saturday evenings at 8pm EST. We also operate a 70cm repeater on 443.975+
On the first Saturday of each month, we hold an emergency simplex net on 146.460 at 7:30pm EST.
---