Repeaters (Updated 04/29/2022 at 4:08 PM)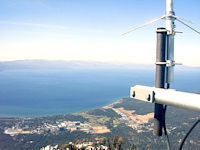 Distances displayed are from Plymouth, IN to the listed repeater location. As we obtain exact coordinates for each repeater, distances will be updated to be more accurate.
If the repeater has a website, click Yes to open the website in a new window. Click the Owner's Callsign to display information from the FCC database.
More repeaters may be found at the Indiana Repeater Council website.
2 METER REPEATERS
| Location | Frequency | Offset | PL | Echolink | IRLP | Owner | Website |
| --- | --- | --- | --- | --- | --- | --- | --- |
| Plymouth, IN | 147.285 | + 0.600 | 131.8 | 147885 | 4330 | K9WZ | Yes |
| Goshen, IN | 146.895 | - 0.600 | 131.8 | | | K9TSM | Yes |
| Mishawaka, IN | 147.090 | + 0.600 | 131.8 | | | N9GVU | No |
| South Bend, IN | 145.290 | - 0.600 | 131.8 | | | N9OCB | No |
| South Bend, IN | 147.330 | + 0.600 | 131.8 | | | K9DEW | Yes |
| Dunlap, IN | 146.745 | - 0.600 | 141.3 | 241475 | | N8AES | Yes |
| Elkhart, IN | 145.430 | - 0.600 | 141.3 | 884791 | | K9DEW | Yes |
| Elkhart, IN | 145.250 | + 0.600 | 141.3 | | | KC9GMH | No |
| Middlebury, IN | 146.640 | - 0.600 | 141.3 | 645025 | | K9DEW | Yes |
| South Bend, IN | 147.390 | + 0.600 | 131.8 | | | WB9AGX | No |
| South Bend, IN | 147.225 | + 0.600 | 131.8 | | | W9AB | Yes |
| Warsaw, IN | 145.130 | - 0.600 | 141.3 | 242971 | | K9DEW | Yes |
| Syracuse, IN | 146.985 | - 0.600 | 131.8 | | | KB9AVO | No |
| Culver, IN | 146.670 | - 0.600 | 131.8 | | | K9ZLQ | No |
| Rochester, IN | 146.805 | - 0.600 | 131.8 | | | KB9WSL | No |
| Ligonier, IN | 147.150 | + 0.600 | 131.8 | | | N9BCP | No |
| LaPorte, IN | 146.610 | - 0.600 | 141.3 | | | K9JSI | Yes |
| Wolflake, IN | 147.270 | + 0.600 | 141.3 | 147270 | | N9MTF | No |
| Michigan City, IN | 146.970 | - 0.600 | 131.8 | 193001 | | W9LY | Yes |
| Knox, IN | 145.410 | - 0.600 | 131.8 | | | KN9OX | Yes |
| Valparaiso, IN | 146.775 | - 0.600 | 131.8 | | | K9PC | Yes |
| Peru, IN | 147.345 | + 0.600 | 131.8 | | | K9ZEV | No |
| Fort Wayne, IN | 146.880 | - 0.600 | 131.8 | | | W9INX | Yes |
| Angola, IN | 147.180 | + 0.600 | 131.8 | | | W9LKI | No |
70CM REPEATERS
| Location | Frequency | Offset | PL | Echolink | IRLP | Owner | Website |
| --- | --- | --- | --- | --- | --- | --- | --- |
| Culver | 443.250 | +5.0 mHz | 131.8 | | 4960 | N9GPY | No |
| | | | | | | | |